Dan Perry passes
Posted March 10, 2017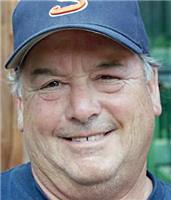 We are very sad to report the passing of Dan Perry, friend, supporter and husband of Lois Krafsky-Perry, our news editor. He passed suddenly on March 9th, 2017.
Dan was a wonderful, supportive gentleman, loved by so many for his involvement in his church, the community and always sharing good stories with a smile and a laugh. He coached baseball for many years, helping a great number of young boys and men get a good start in life through team sports. We will miss him greatly!
Following is the obituary as published in the local newspapers:
Danny Lee "Dan" Perry of Sequim passed away suddenly of an apparent heart attack on March 9, 2017.

He was born in South Bend, Indiana, on May 18, 1947, to Harold and Clara Morse-Perry.

He graduated from Oceanside High School in 1966 in California and went on to attend Mira Costa College, where he was the president of Phi Alpha Chi fraternity.

To say Dan loved the game of baseball would be an understatement. He dedicated 30 years of his life to coaching baseball between Sequim High School and Junior Babe Ruth.

Dan was a friend to everyone. He looked forward to his daily coffee with the "guys" at the Mariner Restaurant. He enjoyed telling stories and making people laugh. His upbeat attitude and passion for living was contagious.

He loved vacationing in Kauai, Hawaii, with his wife, Lois, and traveling to Chicago to visit family. He loved spending time with his family and bragging about their grandchildren.

Dan was passionate about conservative politics and his love for the Lord Jesus Christ and the Bible.

Dan is survived by his wife of 20 years, Lois Krafsky-Perry; his three children, Corey (Kristi) Perry, Stacia (Kyle) Kiesser and Naomi Perry; his two stepchildren, Ryan Kent (Vivian) Smith and Kara (Thorpe) Schoenle; his grandchildren, Miles, Scarlett, Hayden, Kingston, Shackleton, Remington, Ashley, Adam and Brookelynn; and great-granddaughter Brynleigh.

A celebration-of-life service with be held Saturday, April 15, 2017, at 1 p.m. at the Sequim Worship Center, 640 North Sequim Avenue, Sequim.

A benevolent account has been set up in memory of Dan. Donations may be made at any First Federal branch in the name of Lois Perry.
Published in The Peninsula Daily News on Mar. 31, 2017
– See more at: http://www.legacy.com/obituaries/peninsuladailynews/obituary.aspx?n=danny-lee-perry-dan&pid=184762506#sthash.5D0a3Hhs.dpuf
In accordance with Title 17 U.S.C. Section 107, any copyrighted work in this message is distributed under fair use without profit or payment for non-profit research and educational purposes only. [Ref. http://www.law.cornell.edu/uscode/17/107.shtml]