by Lois Krafsky-Perry
for Citizen Review
Posted Saturday, May 23, 2015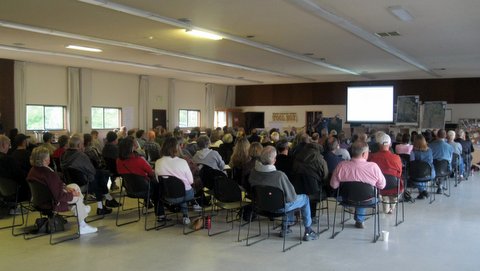 Sequim, WA – The Water Drought Forum was held in the Guy Cole Center at Carrie Blake Park Thursday, May 21, 2015 to a crowd of approximately 250 people, there to ask questions about their concerns. Instead, according to several people who attended, they were treated to a "dog-and-pony show" for the first two hours of the evening.
Scott Chitwood, Dungeness River Management (DRMT) Chairman, opened the meeting and announced, Here's "what we may expect…may happen this summer." Chitwood was former Natural Resource Director for Jamestown S'Klallam Tribe. He complimented Shawn Hines, Jamestown S'Klallam Tribe representative, for her work on water interests.
To see photos of the slideshow presentations, click here. Continue reading →