Posted 7/21/2015
The National Common Core Standards System
This heavily referenced, 48-page document is the result of three months of research effort on the part of members of Arizona's Mommy Lobby, with the help of Emmett McGroarty of the American Principles Project.   It has been distributed to Arizona's House and Senate Education Committees, Governor Ducey's office, most of Arizona's leadership, as well as the Arizona State Board of Education.  If you have questions about Common Core in Arizona (aka Arizona's College and Career Ready Standards), most of the answers are contained in this document titled the National Common Core Standards System.
Chapter headings include:  1) History of Common Core: America and Arizona; 2) The Common Core are Inferior, Defective, and do Not Lead to Readiness for Authentic College Work; 3) High Stakes Testing; 4) Data Collection and Personally Identifiable Information; and 5) Teacher Accountability.
Please feel free to distribute this document, all or in part, as widely as possible.  Click the title to open the National Common Core Standards System.
Kelsey Harkness
for The Daily Signal
Posted 11/12/2014
On the heels of Republican victories last week, attempts to replace Common Core with homegrown standards are resurfacing in states across the nation.
Most prominently, elected officials in Wisconsin and Ohio are spearheading efforts to reclaim more control of education.
On Nov. 5, the day after the midterm elections, an Ohio House committee passed a bill to repeal the Common Core standards.
Although officials on both sides doubt the bill will garner enough support to pass by the end of the year, they are hopeful the legislature will take up the issue in 2015. Continue reading →
Posted 8/18/2014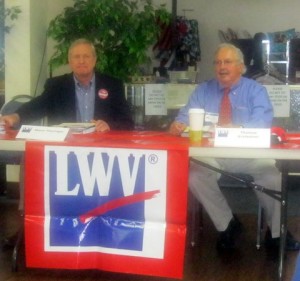 Candidates for State Legislator debated at a forum held Sunday, August 17 at the Sequim Senior Center sponsored by the League of Women Voters (LWV).
There were approximately 50 people present to listen to Home Rule Charter District 1 candidates introduce themselves, and hear Dr. Tom Greisamer and incumbent Steve Tharinger debate the issues.
In a nutshell, Tharinger favors more taxes to cover an ever-rising budget at the state level, while Greisamer believes there is enough money already, and commonsense adjustments need to be made, especially in the bureaucracies. Continue reading →
by Phyllis Schlafly
for Breitbart.com
Posted 7/8/2014

More Americans are waking up to how bad Common Core really is for education, but its nightmare does not go away quickly. Liberal education bureaucrats ("educrats") are now trying to enforce Common Core through the courts, with one lawsuit already filed in Oklahoma and another likely in Louisiana.
In both states the governors tried to get rid of Common Core, but parents are shocked that it may return by court order as unelected educrats claim they have more power than the state legislature and the governor combined. The Oklahoma legislature approved a law to repeal Common Core, and the governor signed it, but now its state board of education has filed a lawsuit to bring it back. Continue reading →
Commentary by Brittany Corona, The Daily Signal
6/13/2014
Even Bill Gates is starting to have second thoughts about the consequences associated with Common Core.
On Tuesday, the Bill and Melinda Gates Foundation— the second-largest financial backer of Common Core after the federal government— issued a letter calling for a two-year delay of the full implementation of Common Core, which is set to take effect this 2014-15 school year.
In the letter, Vicki Phillips, the director of education for the Gates Foundation, writes:
"[The] Gates Foundation agrees with those who've decided that assessment results should not be taken into account in high-stakes decisions on teacher evaluation or student promotion for the next two years, during this transition [into Common Core]…. It's valuable for students to take the Common Core-aligned tests without consequences during this period, so that teachers can get familiar with the tests, have a chance to offer their feedback, and get a feel for the students' successes and challenges." Continue reading →
Written by  Alex Newman | The New American
Posted 6/2/2014
Using a combination of taxpayer-funded bribes and soft coercion, the Obama administration is building massiveCommon Core-linked databases and quietly vacuuming up gargantuan amounts of private information on American schoolchildren, a new study by education experts revealed. Through a dizzying array of federal and federally funded state programs, the political class in Washington, D.C., is working to essentially eliminate any semblance of privacy — even to the point of targeting students' values and beliefs. The plot appears to be unprecedented in scope, seeking to collect some 400 data points on each child. Continue reading →
Posted By Lindsey Burke On March 1, 2014 @ 8:00 am In Education,Front Page
from Heritage Foundation Blog
What's in a name? that which we call a rose
By any other name would smell as sweet;
– Shakespeare's Romeo and Juliet
As Juliet reminds us, changing the name of something doesn't change its nature. Yet, in an apparent effort to placate parents, teachers, and taxpayers concerned by the effort to mandate national standards and tests for what every child will learn, several states are considering renaming the Common Core initiative. Continue reading →
Since coming to office, the Obama Administration has been intent on standardizing what is taught at each grade level in all of the nation's schools. It has used its flagship "Race to the Top" competitive grant program to entice states to adopt the K–12 standards developed by a joint project of the National Governors Association (NGA) and the Council of Chief State School Officers (CCSSO). It has also suggested, in its 2009 Blueprint for Education Reform, that adoption of these common standards could one day be a qualification for states wanting future Title 1 dollars for low-income schools. Continue reading →
by Todd Thurman
for The Foundary
Posted 3/17/2014
A leading education reform scholar argues that Common Core national standards are leaving students unprepared for science, technology, engineering and math (STEM).
Sandra Stotsky, who served as a senior associate commissioner in the Massachusetts Department of Education and worked on the National Validation Committee for the Common Core State Systemic Initiative, writes in the Wall Street Journal [2] that the national standards won't help students get in to selective colleges. Continue reading →
by Merrill Hope
for Breitbart.com
Posted 2/5/2014
Outraged parents. Fleeing teachers. Anxiety-ridden and medicated students. Fuzzy math. Crazy history assignments posted on Facebook. Longitudinal databases. Silenced community members at school board meetings in YouTube footage. Newfangled public school pathways of college and career readiness under the banner of "STEM" (science, technology, engineering and math) on a wild, 21st-century, technocentric highway that's littered with stakeholders who are up in arms over federally mandated testing, national curricula alignment, data collection, and questionable content packaged into one-size-fits-all education.
There's yelling and screaming from all sides of the political spectrum about the educational mandate known best as the Common Core State Standards Initiative (CCSSI). It raises a lot more than emotions; it's a nationwide debate. Proponents tout CCSSI as the greatest achievement since the Enlightenment, while opponents compare it to the Dark Ages, a deliberate dumbing down of America, as Charlotte Iserbyt would say. Iserbyt was the Reagan admin whistleblower who struck a major blow to the technological forerunner to the tracking and data-mining age. Continue reading →
Editor's Note:  Is your town or county experiencing a move toward "regional" rather than "local" government?  The following is from the New Hampshire Tea Party, in an attempt to educate folks about the problems involved with regional government.
Posted 10/8/2013
Help  fight the coming "regional governance" in your NH town.
THE PROBLEM
Powerful non-governmental influences such as the National Governor's Association, are promoting Common Core Curriculum in our schools; and insidious programs such as the UN's International Baccalaureate Programme have been instituted with help from agents of the World Bank.
It has become apparent that our local, state, and federal governments are being manipulated by a gaggle of NGOs and corporate foundations (such as the Carsey Institute) who are associated with public universities such as UNH. These groups, with their very special interests, are attempting to override the wishes of the local community.
Continue reading →
By William M. Christian
for Citizens Against Government Waste
WasteWatcher, September 2013
Starting in mid-August, children began returning to classrooms across the country.  The individuals who work in school districts have the most personal (and visceral) contact of any level of government, especially since parents entrust them with their progeny.  But this close relationship may be supplanted by mandates from on high (or wherever it is that education apparatchiks perch), where a handful of policy wonks (not Father) supposedly knows best.  If they have their way, these D.C. do-gooders will dictate the curricula for elementary schools in Elmira, junior highs in Joplin, and high schools in High Point. Continue reading →
Getting caught up in discussions about whether Common Core is "state led" or a federal program seems a fruitless debate of semantics.
What is the danger of a federally controlled education system that makes "state led" sound better? Those who oppose federal control typically oppose a concentration of power that would dictate one set of educational ideals (yes, even standards represent certain values) to the exclusion of others, establishing an intellectual tyranny of sorts.
Whether one sees Common Core as a federal program, or as the product of an extragovernmental cartel of state leaders (aka state-led) and special interests who had no constitutional commission to affect nationwide education policy in the way that they did, the outcome is the same:
Decisions were concentrated into the hands of a select few and the reforms of one ideology were championed (with the help of federal funds) while all other voices were shut out. Continue reading →
by  Alex Newman | The New American
Posted 7/5/2013
As opposition continues to mount against an Obama-backed scheme known as "Common Core" to standardize education across America, lawmakers and activists determined to stop the radical agenda are turning up the heat. In Congress, senators and representatives are taking action. State lawmakers are too. Among the grassroots, meanwhile, advocates for educational freedom are hosting gatherings in numerous states while planning another online "Twitter Rally" on May 2 to stop Common Core before it is rolled out nationwide.
Over 45 state governments have already agreed to adopt the extremely controversial program in exchange for taxpayer-funded "Race to the Top" bribes and "No Child Left Behind" waivers offered by the Obama administration. However, as awareness of the scheme grows, opposition is surging, too. Just last month the Republican National Committee (RNC) unanimously adopted a resolution slamming Common Core as "an inappropriate overreach to standardize and control the education of our children." GOP lawmakers at the state and federal level took notice as public pressure to stop the agenda balloons. Continue reading →
In accordance with Title 17 U.S.C. Section 107, any copyrighted work in this message is distributed under fair use without profit or payment for non-profit research and educational purposes only. [Ref. http://www.law.cornell.edu/uscode/17/107.shtml]