Shoreline management plan meeting brings unanswered questions
by Lois Krafsky-Perry and Sue Forde,
Citizen Review Online

September 27, 2011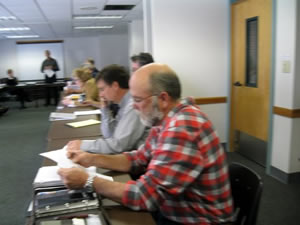 Port Angeles, WA – Approximately 60 people attended the Shoreline Management meeting on Sept. 27, 2011 held at the Vern Burton Gym. The number of members of the public matched the number of Shoreline Management Advisory Committee members, who met to discuss future Shoreline Management Plans (SMP) for the Olympic Peninsula.
Thirty of the committee members, joined by two facilitators, Jim Kramer of Kramer Consultants and Margaret Clancy, stacked a small room at the Vern Burton Gym. The other 30 members of the "public", "audience," "visitors", or "spectators" were asked to be seated in chairs at the back of the room, where it was difficult to hear.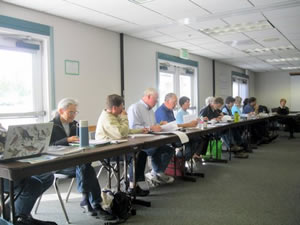 The state's Shoreline Management Act of 1971 requires cities and counties to work with the WA State Department of Ecology (DOE) to develop shoreline master programs (SMPs) to regulate the use of shorelines within their boundaries. Under the law, local governments must update their SMPs according to the schedule set by the Legislature.

The Clallam County Department of Community Development (DCD) is tasked with administering the update and has convened a 29 person Shoreline Advisory Committee. Members include some private Clallam County citizens, but most members of the committee represent environmental and other advocacy groups or are paid staff of the Department of Ecology (DOE), Department of Fish and Wildlife (DFW) and Puget Sound Partnership. (1)

Margaret Clancy and Jim Kramer (of Kramer Consulting Inc.), representing ESA-Adolphson of Seattle, co-facilitated the meeting. (See About the Facilitators.) (ESA-Adolphson was awarded a $599,930 contract on September 21, 2010 to prepare the SMP update for Clallam County, by the Clallam County Board of County Commissioners (BOCC). Kramer acted as the lead facilitator.

An additional $999,915 in funding in Clallam County comes from the Environmental Protection Agency (EPA) to "focus on refining the implementation of the Shoreline Master" to integrate the concept of "no net loss of ecological functions." (2)
The meeting materials included a summary of the County's existing shoreline designations currently, the consultant assessment of why the current approach should be changed and recommendations for how to categorize shoreline areas based in environmental conditions, level of development, potential change and risk of environmental degradation.

The consultants presented the recommendations at the meeting and reviewed a map of where they apply for review at the next meeting.
The "Public Participation Strategy" as presented by ESA-Adolphson was that "The County will host regional shoreline forums at key points in the process in order to present information to the public, answer questions, and collect input. The perspectives gathered from such efforts will be documented and included in discussions with advisory groups, the Planning Commission, and Board of County Commissioners."
From the back of the room where the citizens were required to sit, however, it was difficult to hear the speaker or the comments from the committee members. It was suggested, to "get a microphone" by a Sequim resident, who was placed at the back of the room. The request was ignored.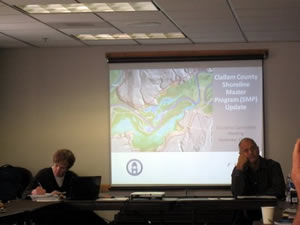 As Clancy pointed to areas of a large map, placed in front of the room, she also read items from the literature.

The map showed areas across Clallam County, with colored areas determining: Conservancy (394 miles and 50 percent), rural (210 miles and 26 percent), no designation (140 miles and 18 percent), natural (29 miles and 4 percent), urban (12 miles and 1 percent) and suburban (5.0 miles and 1 percent.). (See map - go to page 6)

Clancy also answered questions, as did Kramer, but he cautioned the 'visitors', "the questions are for the committee members only." There would be a chance for their questions 3 hours later (3:20), when they reconvened after a break. The scheduled public meeting met at 12:30 PM.

"These are consultant team's recommendations similar to zoning," said Kramer, at the beginning of the meeting.

Clancy said they are focusing on the Strait (of Juan de Fuca). When discussing regulations she said, "This is still a work in progress." She said there is different shoreline rationale. She said they are defining development, not allowed height standards, and different kinds of permits.

"What kind of measurement scale are you using?" asked another member.

The answer given by Clancy was vague.

At one point an unidentified man asked, "What percent is public and private? One hundred percent makes a big difference." He wanted to know what percent of the county. "Can you verify?"

Steve Gray, Clallam County Planning Director, who was at the committee member table said, "Not the whole county. He said straits, rivers, and lakes numbers are set up as we go along." He stated that each designation proposes a statement, criteria, and management policy to that designation.

He stated that DOE (Department of Ecology) guidelines recommend six different designations. It was stated also local government can adopt different or leave 1976 designations, if with Washington State Code.

Clancy noted that Conservancy (50 percent) was the largest on the map. She explained issues of subdivisions being prohibited in some areas, as well as boat houses, ports, water industries, commercial development, on the map, She explained that Clallam Bay and Pysht, listed as urban are very different, for example. She stated certain water areas have no designation as ecology guidelines demand.

She noted the Ozette area and said it is tribal and federal lands, and, "not subject."

Committee member Pearl Rains Hewett asked, "Are there errors on the map, in the mapping? Again a vague answer, which was hard to hear from the crowded back area of the room. The facilitator answered, "There are some inventory characterizations, some errors there. Will correct in the next two months."
It was mentioned that there are to be updates every 10 years, in this designation process. Clancy noted these groups: fresh water, forest, marine, and bluffs.

Jo Anne Estes, a committee member, asked for an example of setbacks. The answer was unclear.

Committee member Ron Gilles asked for a definition of off-scale mitigation. The answer was that they "need to come up with a clear definition."

An unidentified woman on the committee said, "The danger that is right before our eyes--- the categories are changing."
What's next?
The Committee questions and feedback will be used to develop a new set of shoreline designations and a map of where they apply for review at the next meeting, according to the facilitators.

Recommendations for assessment of Shoreline Public Access states that the staff and consultants recommend the County prepare an "assessment" of current and planned public access to public shorelines.
Regarding public involvement, the agenda stated, "The County has invested substantial effort in three series of meetings with shoreline property owners and the public over the past year. Despite these efforts we have reached a limited segment of the community. Recommendations are sought from the Committee for how to improve public engagement before the staff sets the next round of public meetings, which are tentatively set for Fall."

When the draft Characterization becomes final, the private property land designations will establish definitions, policies, regulations, environment-specific regulations, and special regulations for 22 shoreline uses and activities. (Ch. 5 of the SMP.) Private property along Clallam County shorelines and rivers will become severely restricted and owners may face non-conforming use of their property. This makes selling property so characterized very unlikely, according to Jo Anne Este, member of the Shoreline Advisory Committee. "There is no provision for government mitigating or compensating property owners once characterization is final," Estes said in a recent commentary.

According to member Jo Anne Estes, "There are 3,289 shoreline property owners in Clallam County about to be subject to further regulation and restriction on the use of their land. If you own property within 200 feet from rivers, lakes, streams, and marine shores in Clallam County, you need to participate now in the Shoreline Master Program update."

Estes continues: "Clallam County plans an approximate summer 2012 adoption of the updated SMP. Once enacted, it will regulate land use and development within 200 feet from rivers, lakes, streams, and marine shores in Clallam County. What it means to individual property rights must be addressed now by local citizens who will lose the use of their private property."

About the Facilitators:
Margaret Clancy, from ESA-Adolphson, an environmental company. She is on the board of the Washington Environmental Council (WEC). She said she was inspired to join the WEC board by her volunteer work with Earth Share of Washington .(3)
ESA-Adolphson is "committed to the principals of sustainability – economic, social and environmental – and has incorporated these principals into its business practices", according to an article written by that company (4).
Jim Kramer, president of Kramer Consulting Inc. in Seattle, WA, helped to create the statewide Salmon Recovery Funding Board (SRFB), on which Commissioner Steve Tharinger has served (5).  They worked together on the committee (6), and Kramer gave funds for Tharinger's reelection prior to being appointed by the Commissioner as facilitator for this committee. A graduate of Evergreen State College, he has served as Executive Director at Shared Strategy for Puget Sound; Co-Manager at Puget Sound Partnership 2006; and Project Director at Puget Sound Waterways.
ESA-Adolphson has issued a Draft 359-page SHORELINE INVENTORY AND CHARACTERIZATION REPORT for Portions of Clallam County Draining to the Strait of Juan de Fuca.  The consultants have been tasked with assisting the DCD staffers take an inventory and characterize 800 miles of marine and freshwater shoreline. They will also lead regional forums planned for Sequim, Port Angeles, Joyce, Clallam Bay-Sekiu and Forks to" gather public input on shoreline access and environmental protection". "survey landowners, environmentalists, natural resources managers, tribes, county shoreline advisory groups and shoreline users before drafting policies." (7).


Background:

Washington is governed by the Shoreline Management Act (SMA), passed by the State legislature in 1971. It was enacted to regulate private property development along the shorelines of Washington.

According to the Department of Ecology (DOE), more than 200 cities and all 39 counties in Washington have Shoreline Master Programs (SMPs), plans specific to these jurisdictions.

All 239 plans in Washington require periodic update and Clallam County's is now underway." Further restrictions and regulations are now being formulated as a result of this mandated update" Estes said.

All non-federal and non-tribal shorelines of the state as defined in RCW 90.58.030, including "shorelines" and "shorelines of statewide significance", and related "shorelands" in Clallam County, are governed by the update."
Under the Shorelines Management Act, a locally approved program must meet state guidelines. Once an updated program receives approval at the local and state levels, the state becomes a full partner in defending any legal challenges to the updated program. Ecology is required by law to prepare and adopt master program updates for any local jurisdiction that fails to update their SMP. So, if the County does not proceed with a SMP update much of the opportunity for local determination of how to regulate shoreline areas would be reduced. (8)



What you can do:
Get familiar with the Clallam County Shoreline Master Program Update– be sure to read the comments made by members of the citizen board for some useful insights.  (http://www.clallam.net/RealEstate/html/shoreline_management.htm)
Review the Public Participation Strategy report. It can be found online here - or in printed form at the Sequim Library or Port Angeles Library.
Review the map on page 6 at Map of the county for SMA environment designations.
June 16, 1992. Map revision February 8, 2010
The Department of Community Development has asked for final public comment on the report by October 31, 2011. Send comments to smp@co.clallam.wa.us or 223 E. 4th Street, Suite 5, Port Angeles, WA 98262.

You can also contact Department staff by phone at 360-417-2563. Shoreline Advisory Committee meetings are open to any member of the community. The next meeting is slated for October 18, 2011 at 12:30 p.m. at the County Building in Port Angeles.

______________________________________

1)  Clallam County Shoreline Committee. Clallam.net
2) Peninsula Daily News story dated Aug. 4, 2010 by Rob Ollikainen.
3) Washington Environmental Council Board: Margaret Clancy
http://wecprotects.org/about/board/board-1
4) A  Firm Worth Consulting" by ESA-Adolphson. 3rd paragraph.Dec. 20, 2010. http://readthedirt.org/2010/12/20/a-firm-worth-consulting/
5) Puget Sound Restoration Fund: Jim Kramer http://www.restorationfund.org/about/board
6) Who's Who in the Shared Strategy - www.sharedsalmonstrategy.org/files/whoswho.pdf
7) Peninsula Daily News story dated June 29, 2010 by Rob Ollikainen.
8) Public Participation Strategy. Page 4. http://www.clallam.net/RealEstate/assets/applets/SMP_FINAL-PublicParticipation_Strategy_3-2010_.pdf