Local citizen groups oppose Wild Olympics Campaign, present Resolutions to County Commissioners


By Sue Forde
Citizen Review Online

November 30, 2011

Clallam County, WA – Approximately 55 local citizens gathered at the County Commissioners' meeting on Tuesday, Nov. 29 to voice their opposition to the Commissioners' support of the Wild Olympics Campaign. Only two commissioners were present: Mike Chapman (I) and Mike Doherty (D). Commissioner Steve Tharinger was absent.

The Wild Olympics Campaign (WOC) is a consortium of environmental groups including the Sierra Club, Wilderness Coalition and others, working to increase the boundary of the Olympic National Park by buying up land from so-called "willing sellers" of 37,000 acres to place into "wilderness"; by changing the designation of current park land (an additional 134,000 acres) into a "wilderness" designation, and calls for 450 miles of Wild and Scenic Rivers designation. Approximately 145,000 of USDA [U.S. Dept. of Agriculture] Forest Service Olympic National Forest would be converted to "Wilderness" designation.

The Olympic National Park already contains 922,650 acres and the Olympic National Forest contains another 633,677 acres, according to the information at the Parks' websites - over 1.5 million acres.

A "wilderness" designation generally prohibits any access except hiking in or horseback - no motorized and mechanized use, logging, mining or other development. "Wild and Scenic Rivers" designation forbids licensed dams and other water projects, and establishes a ¼-mile protected corridor on both sides of the river.

US Congressman Norm Dicks (D) and Senator Patty Murray (D) have developed their own version of the plan to take more private and public property out of production and make it "wilderness", along with creating very restrictive "Wild and Scenic Rivers" of the rivers within the national park boundaries.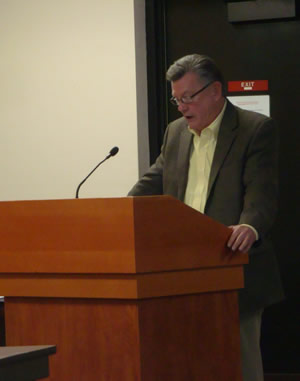 Dick Pilling, chair of the county Republican Party, presented a Resolution opposing the Wild Olympics Campaign and urging the commissioners to withdraw their support, who had signed a letter to US Rep. Norm Dicks requesting the expansion of the national park and designation of park rivers as "Wild & Scenic". (Click here for Resolution)

Pilling stated among other reasons to oppose the move, that "any productive use of the 'protected lands' is prohibited. Long the source of Washington's economic hydro-power, our rivers could no longer be harnessed… timber, the former building block of Washington State's economy, is off limits… grazing lands and crop-rich soil would lie fallow..."

Additionally, he said: "If WOC is implemented, it is estimated that up to 225 jobs will immediately disappear, tax revenues of $2-4 Million per year would not materialize, and, ultimately, the futures of five different mills with a yearly payroll of over $40 million dollars would be endangered." (See entire statement by Pilling here.)

The packed room of citizens were present to support the presentation, and to offer their own comments against the agenda.

Larry Eggebroten of Sequim said he worked in Mt. Baker National Forest and helped to build trails to enhance the forest for visitors to come and visit. "I see this as an elitist attitude except for the most physically able," he said, about the wilderness designation being promoted.

Terry Roth testified as representing six granges in Clallam County with over 550 members. "I have been before the granges at the September meeting, and there was a motion to oppose the Wild Olympics Campaign as presented – there was a unanimous vote to oppose it," he stated. (Click here to read his entire statement.)

Carol Johnson of NOTAC [North Olympic Timber Action Committee] said that the plan being promoted by Dicks and Murray differs very little from that of the environmental groups' coalition. She said they present themselves as "local," but are, in fact, NGOs (nongovernemtal organizations) that are pure "chapters" of major environmental groups. The Wild Olympics plan does not enhance forest health, she said. It also shorts rural school funding.

Mary Buck, who runs a bed and breakfast on Bagley Creek Road stated that based on her experience with tourism, putting "more land into wilderness will not bring more tourists."

Pearl Rains-Hewett, a long time resident of Clallam County, shared her story of 60 years ago when she and her mother went into the park to pick berries. It was pristine then; and still so, 20 years later, when she took her son to the same place. Now, she said, there are extremely limited camp spaces, no bonfires allowed, and one has to make a reservation a year or more in advance.

Sue Forde of Sequim urged the Commissioners to rescind their support and instead, to urge Congress to "stand up for people across the North Olympic Peninsula". The "parks should include people, not exclude them," she said, adding "How about opening up areas of the park to private enterprise, like lodges and cafes – guides for white water rafting and other private enterprises that allow the people to truly 'enjoy' the parks we already have. This would create jobs for folks on the Peninsula, in addition to more tax revenues." (See the entire statement here).

County resident Kaj Ahlburg commented that the Port Angeles Business Association is working on a similar resolution, which he will be presenting at a future time. He spoke on his own behalf, saying it would "ill behoove" the Commissioners to move forward with an agenda that would mean fewer jobs and less tax revenue. "It does not benefit us", he said.

Commissioner Chapman responded to the comments made by defending his stance on the Campaign, and saying that the "audience" would probably not like him for his views. He called himself a "Teddy Roosevelt" supporter, and talked about it being a "sad thing to divide our community". He added, "I'm not in favor of privatizing the park." He told the people present that they should "listen" to the environmentalists' side, and that he supports what they are doing.

Richard Kott, who said he owns property near Camp David and is an avid hiker, said with "wilderness" designation, a lot of people can't go there (wilderness designation allows only for walking in or going in on horseback). It will restrict a lot of people from enjoying the park, he said. He added that there are potential problems with the wilderness property adjacent to Camp David Jr.; the water for the camp and surrounding homes comes from the river to be designated as "wild and scenic". "No thought has been given to the impact of property owners," he said. "If there is no access to water, people will be forced to sell", thus becoming so-called "willing sellers." He recommended that they withdraw their support, and instead, call for a study to determine the impacts.

"We can't afford to lose the jobs," Kott said.

Dicks and Murray will be holding a public meeting for input about the Wild Olympics Campaign on Saturday, Dec. 3 at the Museum at the Carnegie, 207 S. Lincoln St., Port Angeles, from 3-5 p.m. (The Carnegie Museum is diagonally across from the downtown Safeway. It is the old City Library. It is located north of the old part of the County Courthouse.)

Another meeting is scheduled for Sunday, Dec. 4 at Central Elementary School Library, 310 Simpson Ave., Hoquiam, WA from 3-5 p.m.
___________________________________
Sue Forde can be reached at sueforde98382@gmail.com.